All Time Favorite Books from Infant to 8th Grade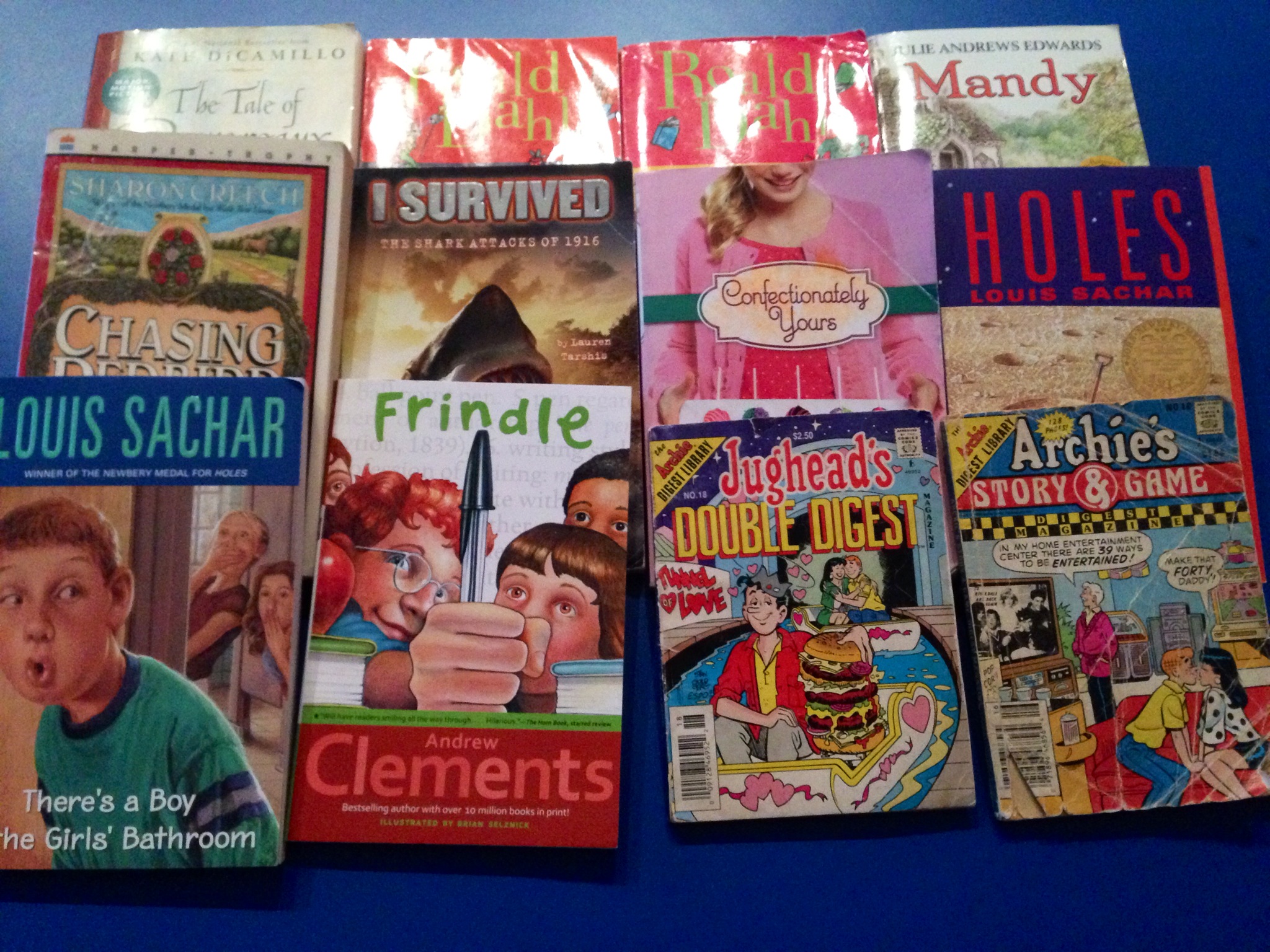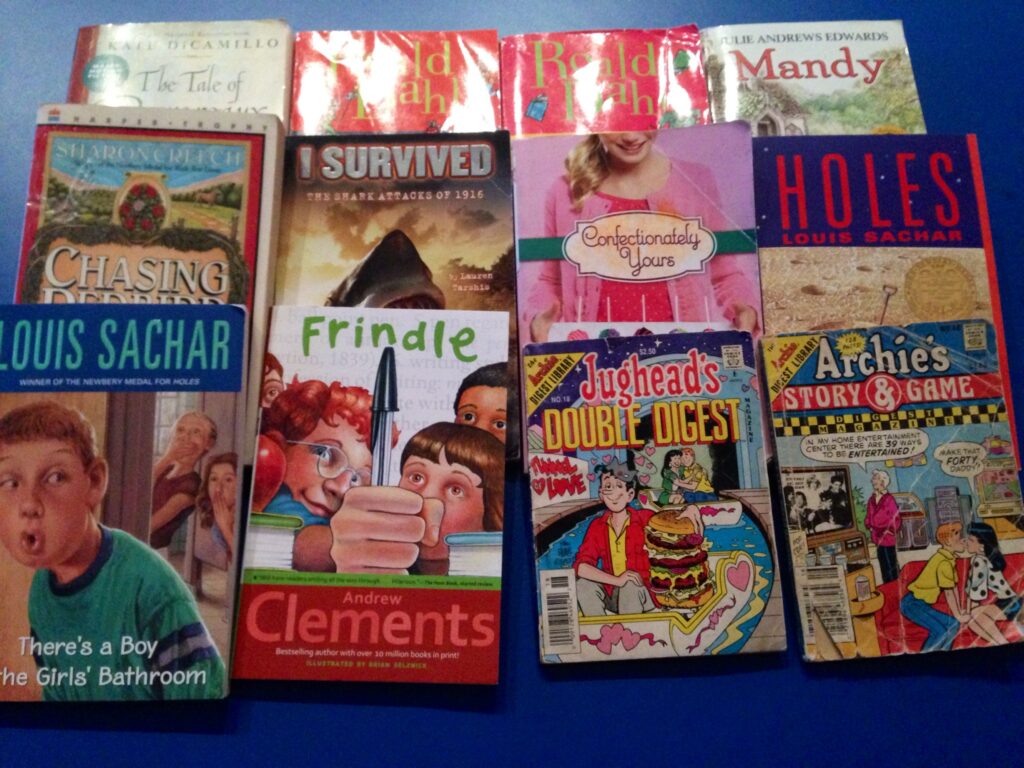 These are our favorite, time-tested books for gifted young children and students in elementary and middle school.
This page and book recommendations for the kids 🙂
If you are a parent, go check out my list of tried-and-true books to help with parenting gifted children!
Our recommended grade levels are adjusted for high ability readers. For example, a book that is written for typical 12 year olds might be listed here under a younger age – such as 8 or 9.
Again, these grade suggestions are based on our experience with Lucy and other children in our gifted classrooms. Additionally, these books should be content-safe for the grade level listed, but parental and educator guidance is always suggested, as our recommendations are subjective.
Be sure and also check out our huge list of websites for gifted chidren and high ability learners, and our 2023 holiday shopping list of toys and games for gifted kids on your shopping list!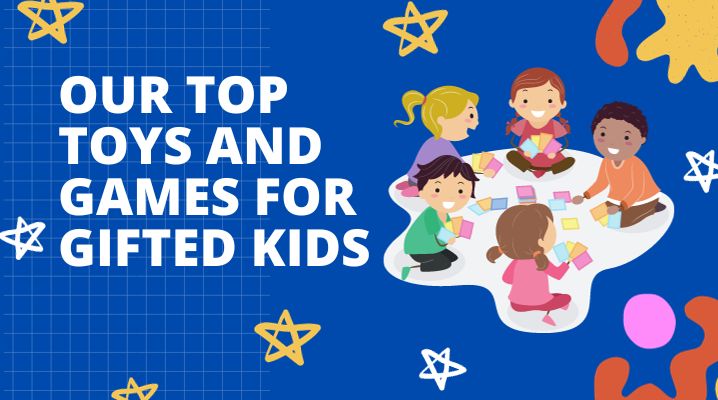 We rely heavily on Newbery Award Winners for all age levels. Using these awards is way to vet out great authors and works of literature when building your library.
In addition to the Newbury books, we love to explore Caldecott Award Winning books when upgrading our library!
Books for Gifted Kids by Age
Books for Gifted Babies
Books for Gifted Preschoolers
Books for Gifted Kindergarteners
Books for Gifted 1st and 2nd Graders
Books for Gifted 3rd Graders
Books for Gifted 4th Graders
Books for Gifted 5th Graders
Books for Gifted 6th Graders
Books for Gifted 7th – 8th Graders (Middle School)

Books for Gifted Babies (Ages 0 – 3)
This portion of the list is for newborn – Age 3 and ordered starting with our earliest reads and ending with all-time favorite books from ages 2-3. Some of these books may only be available used or from 3rd party sellers.
Gifted babies are generally very attracted to books and begin reading at a very early age (Lucy was reading many words by 18 months), so we did not want to leave our favorite baby books off the list.
Mom's Note: I found that Lucy wasn't drawn to some of the more traditionally popular baby books because she preferred real pictures to illustrations from 0-3, so many of these baby books contain photographs and not illustrations. You may see that many of the books I've noted are no longer published, but still can be found on Amazon or at your used bookstore.
Again, the books under Books for Gifted Babies are time-tested by my family and they are gifted-child approved! They are well worth the purchase, whether new or used 🙂
Books for Gifted Preschoolers (Ages 3-4)
Most of the books here are for gifted children who are starting to read. Lucy was reading fluently at age 3-4. The same theme continues here that Lucy was more drawn to non-fiction and books with real photos, so our entire library at this age was comprised mainly of the Step into Reading book series.
Today I Feel Silly: And Other Moods That Make My Day by Jamie Lee Curtis
Step into Reading Level 2
Step Into Reading Level 3
Tikki Tikki Tembo
Pete the Cat Series – 63 books about Pete the Cat!
Books for Gifted Preschoolers and Kindergarteners (Ages 4-5)
Featured Fall and Holiday Book Set For Gifted Readers!
In general, we highly recommend the "Step into Reading" Series for avid readers in preschool and kindergarten because they are inexpensive and great reads! It gets very, very expensive to buy books and these were a lifesaver for us at around $4 – $6 a book.
There are way too many to list, but you can search by Levels 1-5. Lucy was around Level 4 at age 4-5.
Step into Reading Level 4
Arthur Step Into Reading Books – A beloved series around age 4
If You Give a Mouse a Cookie
Books for Gifted 1st – 2nd Graders
The Tale of Despereaux
James and the Giant Peach by Roald Dahl
The BFG by Roald Dahl
Frindle by Andrew Clements
What Was Ellis Island?
Matilda by Roald Dahl
Escape from Mr. Lemoncello's Library
Harriet the Spy by Louise Fitzhugh
The Borrowers by Mary Norton
The Boxcar Children Series
Diary of a Wimpy Kid Series – ALL kids, gifted or not, love this series!
The Graveyard Book
Books for Gifted 3rd Graders
Featured Fall Book For Gifted 3rd Grade Readers
Books for Gifted 4th Graders
Featured Fall Book For Gifted 4th Grader Readers
Books for Gifted 5th and 6th Grade Students
Featured Fall Book For Gifted 5th and 6th Grade Readers
Books for Gifted Middle Schoolers (7th – 8th Grade)
As a parent, this is the TOUGHEST age to find non-fiction works that are both challenging, inspiring, and not always centralized around teen/early adult storylines that middle school students just don't need yet. These are in no particular order: