In the past when I've searched for games for my gifted children, I often come across complicated games for older gifted children and not as many for preschool gifted children or games for young gifted children (Kindergarten, 1st grade, 2nd grade, 3rd grade). I thought it was about time that someone posted a list of the top 10 games and toys for gifted preschoolers and elementary aged children! These are our all time faves, and I've tried to note the appropriate "gifted" age range.
When choosing games for gifted kids, add some inexpensive classics – like Marbles
, Jacks
, strings (remember Cat's Cradle?), and card games! This list contains many inexpensive, fast to play, and easy to learn games. Trying to learn new, complicated games with younger kids gets overwhelming – and it's unnecessary. Even our radically advanced children still need to learn the basics – like sportsmanship and patience.
We also like fast games because we generally choose a game or two before bed on weekdays, and that would never happen with Monopoly!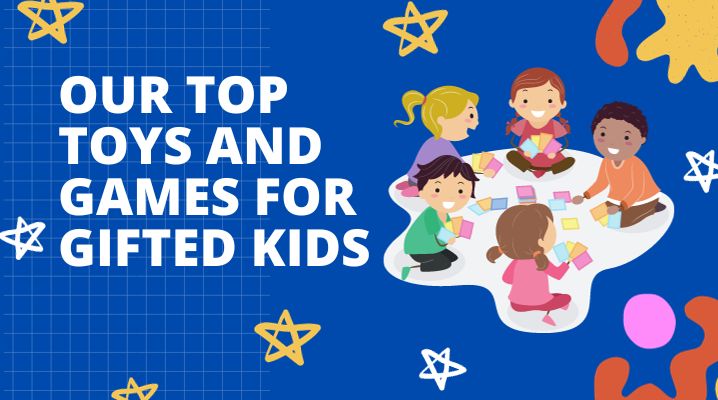 Best Games for Gifted Children
There are two versions of this card game, one with a super peek option and collectible tin, and the original (linked here). We prefer the original because the "super peek" kind of takes away the fun and strategy for us. Absolutely, hands down, a favorite for Kindergarten to adult! Games are fast and require skill, strategy, and a bit of luck. The recommended age is 6 and up, but Rat-A-Tat-Cat is appropriate for a gifted child age 4 and up and a favorite for kids and adults. Our gifted 5 year old easily easily beat the pants off of the entire family. This simple game has serious staying power and has been a favorite for 5 years, and a game we return to again and again. Grandma plays, mom plays, dad plays, everyone enjoys – it's a huge win – and we take it on all of our summer travel adventures too!
Ages: 4 – adult
This was a complete fluke find.
A family member's mother who throws away nothing kept this book & string stashed away in a closet for many years. After uncovering it recently, ALL of the kids (and us adults too) were obsessed with showing off our string skills. The recommended age is 6 and up, but I believe it's more like 4 and up for gifted children. They will start with the easiest string figures and work progressively harder. This is a fabulous teaching tool for persistence – especially for gifted kids who get easily frustrated when they don't "get something" right away. It takes work and concentration for all ages to conquer the progressively more difficult string figures.
A word of warning: Buy an extra string for each child so they don't fight over it! The book itself has great starter string games that are nicely illustrated, but you may also wish to download more string games.
Having been through multiple children and many different kinds of science kits over the years, I can safely say this one was our favorite from Age 3.5 to 8.
Have a gifted child age 6 and up? Do not walk. RUN and buy one of these kits. I happen to have gifted girls, and I believe that parents should encourage a solid science and engineering mind. There are many add on kits, but this is the base kit that you need to start your child's Snap Circuits obsession!
Encourages gross motor skill development, appropriate for gifted children ages 4 and up to adult (recommended age is 6 and up). Gifted kids sometimes struggle with gross motor skills, and this is a fun way to work on them! This is a really fun game to have in the car or just lying around that the kids can pick up between their mindbending activities that gifted kids enjoy! Warning: Addictive for parents AND children.
The recommended age is 6 and up, but a gifted child strong in quantitative/math can start this as early as age 3 or 4. Easy, packable, fast. Love.
Gifted kids and adults find this game equally amusing. Fun to play, easy to learn and gets rave reviews from everyone! Good for gifted children as soon as they are reading, and fun for adults (again, this is a grandma to mom/dad game!)
Classic, portable, fun. Everyone knows how to play UNO already! Can you tell we love card games?
We started playing Old Maid regularly when my youngest was 3 years old. This game is hysterical for younger kids, because it's nearly impossible for anyone to keep a straight face when they have the Old Maid card!
Fast and fun for the entire family – and extremely portable like many of the other games listed here. Appropriate for gifted kids ages 5 and up!
We hope that you enjoy these games as much as we do!